Take your Free Lifestyle Health check now.

Is your lifestyle healthy?

How would you know if you was? How could you make adjustments and measure the change?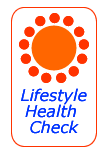 The Lifestyle Health Check is a free tool to assess the quality of your lifestyle. The Lifestyle Health Check covers all areas of your life including money, relationships, career, work, spirituality, dignity, emotional responses, friendships, family, world issues and your health and wellbeing.

The Check consists of 130 questions, takes about 15 minutes to complete and you receive a concise assessment with suggested actions to improve your levels of life satisfaction.

Take your FREE Healthy Lifestyle Check now!